The best way to avoid unwanted chores when dealing with your outside space, is to invest in some slightly more expensive, but far more durable, all weather garden furniture.
The best providers, as mentioned above, will often be slightly more expensive than your average Argos or Tesco retailer, but it'll be well worth it, as these furniture sets will last for many years, without the need to store, or maintain them in any way.
This can save you hours every year, which is a great way to exchange money for time, a smart investment no matter what your lifestyle is.
Here I'll go over the best type of weatherproof furniture to consider, and where you can buy them online. Most of the items for sale will be available for home delivery in England, but make sure you double check this with the manufacturer first.
Update July 2019 – All Weather Garden Furniture Retailer UK
We've found the all weather garden furniture at Garden Centre Shopping UK to be one of the best around the country, including their selection of Winawood composite, and reclining rattan furniture by Majestique.
Another useful site: https://allweathergardenfurniture.co.uk/
Winawood All Weather Furniture – Revolutionising Real Wood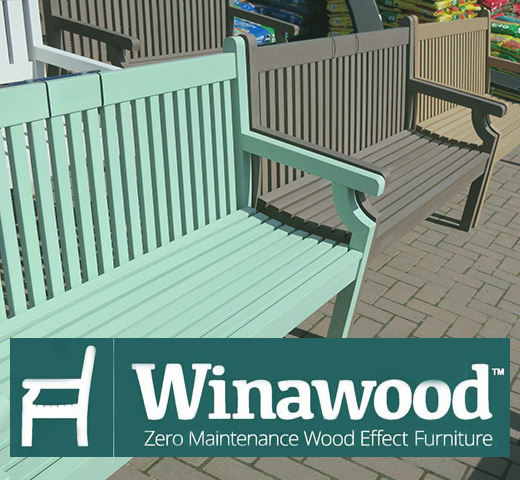 Winawood is a premium brand of furniture, owned by Innovators International, that started as a range of Sandwick garden benches, but soon moved into a range of weatherproof furniture, including dining sets and coffee sets.
Winawood Selection
They come in a range of colours, including green, white, teak and brown, which can all have a place in both a modern, and traditional style of garden. They have a grain effect, caused by the compressed polymer material, which adds the look and feel of a real wooden piece, but obviously it's man made and so doesn't rot or warp. This allows it to be assembled very easily, without the "leverage" that a wooden set normally requires.

When to choose Winawood?
We would recommend those that prefer the look of traditional garden furniture to opt for Winawood, as it remains classically styled, but with the all weather properties mentioned above. The main provider of Winawood in the UK is Gardencentreshopping, and you can find more information about them at www.gardencentreshopping.co.uk/benches-winawood-all-weather.
All Weather Rattan Furniture – Modern and Comfortable
Now the more traditional rattan was always susceptible to fading and rotting, because it was a natural product, shown perfectly by this video below.

Synthetic Rattan Furniture
However this new type of all weather rattan is synthetic, man made, designed to last for many years, while still providing the cushioning of the hand woven product. There are many fakes out there, which means you have to look carefully for the signs that it's a quality piece of furniture. These include making sure the material has been UV stabilised, which involves treating the plastic to avoid the damaging UV light of the sun. You also need to make sure it's made from aluminium, which is easy to tell by the weight, as this avoids the potential rust problem with steel furniture.
What do you get?
If you like the modern look, then rattan is for you, as it usually comes in darker colours such as grey rattan, black rattan, or brown rattan. They often come with cushions included, which makes them very comfortable, however it's often a good idea to check if the cushions are waterproof.
Weatherproofing Further Reading
If you're interested in reading more about how furniture becomes classed as all-weather, or if you're simply not ready to stop reading, then checkout the following useful resources below.
http://www.norburywood.org.uk/winawood-garden-furniture/
http://winawoodfurniture.co.uk
http://www.botaniwipe.com/garden-furniture-uk/
Written by Steve from Falcon of Fury, on the 2nd of January 2017. Comment below for more information, or email [email protected] for edits of additions.